GreenScreen for Corporate Events
Social
Engaging
Interactive
Re-Imagined
PhotoGenic PhotoBooth
PhotoGenic's DNA is
"SOCIAL" Media
Branded Booth + Branded Photo = Interactive Visual Branding by PhotoGENIC
Seyi Law
(Nigerian Celebrity Comedian)
GET PHOTOGENIC PHOTOBOOTH FOR YOUR
NEXT COMPANY PARTY
(you never know who will make an appearance...)
Interactive visual branding
social media marketing
deep customer engagement
a know successful Product Launch Campaign
Interactive Visual Branding
Social Media Marketing
Deep Customer Engagement
PhotoGenic PhotoBooth …The Ultimate Choice for Effective Campaign Activation and Brand Engagement
No matter the event type,
YES you'll need a Photogenic Photobooth!
Reasons to book Photogenic Photobooth for next event.
It's Fun
There is something exhilarating about the PhotoGenic PhotoBooth Experience. Maybe it's the celebrity red-carpet feeling, or that guests get an instant keepsake photo, or that they can immediately share their experience on Facebook.So Your guests have a great time, feel good about the photo booth experience and the event, and consequently build a positive brand association that translates into potential conversion.
Focused & Targeted Marketing
Social Media is the best way to attract friends and followers that are likeminded and similar. PhotoGenic integrates social media technologies seamlessly into the experience to help businesses harness the benefits of focused and targeted marketing. Using this "network effect," 1 branded photo shared on social media = 1,000 Online impressions by target audience; thus, attracting and building the right customer base.
Differentiate Your Brand
Traditional Audience Photography is so Passé. Our technologies equips the host company to stand out from the competition and effectively differentiate its brand. The experience we deliver is novel, cool and highly customizable to meet your brand requirements. Using our services not only shows your brand is forward-thinking, but it also aligns your brand as being synonymous with high quality and creativity.
Capture High Quality Marketing Content
We enable the host company get engaging media content that can be easily transformed into amazing ad campaigns. Using sophisticated lighting and HD cameras, we capture studio quality photos of guests enjoying your product in creative ways or 8 seconds of customers-videos representing what they think about the brand.
It's Measurable
PhotoGenic stands out from other branding services by providing clients with accurate and comprehensive tracking and reporting capability. This helps organizations to understand the effectiveness of the PhotoGenic experience and associated marketing spend.
IF YOU CAN'T MEASURE IT, YOU CAN'T DETERMINE IT'S SUCCESS LEVEL
Price Match Guarantee
We genuinely believe we provide the highest quality photo booth experience in Nigeria at the best price. If you find a similar quality photo booth rental quote from an establish company, we'll beat it by 10% at time of booking!
OUR AWESOME SERVICES
Booth Branding
Branding your booth for a retail promotion, movie premier or product launch creates a powerful form of experiential marketing. Our booths can be branded to match your theme, design and budget.
Photo Branding
Give your business a unique edge and increased prominence with your own branded prints. The tailor-made photo prints can include text, logos, graphics and hashtags – one of the best ways to maximize brand presence.
Social Media Marketing
Post It (Facebook/Instagram), Tweet It (Twitter) or go old school and Email it! Use our customized iPads to share and spread the photo-entertainment experience instantly with the world.
Data Capture Technology
Seamlessly integrated into the experience, our advanced data capture technology enables our clients to capture valuable information about consumers who engage with the photo booth experience.
Campaign Tracking & Reports
Measure the success of your events with our accurate and comprehensive campaign reports.
Much More…
We offer additional branding and marketing services.
Photo Folder Branding, Video Capture, Screen Projection, Theatrical Property (Props) and much more.
CASE STUDY
RECENT WORK WE'VE COMPLETED FOR AN AMAZING CLIENT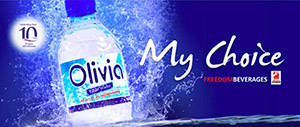 To celebrate 10-year anniversary of its brand and position it with a competitive edge, Olivia Beverages hired PhotoGenic to create an unforgettable and enriching experience for the guests. We worked closely with the clients, under tight budget, to deliver an experience beyond expectations.
A secondary objective was to use this campaign as a platform to target fresh markets in Abuja and Lagos.
With the aid of our Special Effects tools, we provided visually-compelling branded printouts. Then harnessing PhotoGenic's Social Media platform, we enabled Olivia to create a vast social media presence targeting new markets in Lagos and Abuja.
Olivia Beverages also wanted to capture market information on how consumers pick a water brand. We used PhotoGenic's Data Capture Software to learn more about consumer preference by asking them a set of 3 questions during the fun PhotoGenic Experience.
The results were amazing with over 2000 Likes and 350,000 social media impression. The survey take rate was 98% and we provided Olivia with an online report same-day.
The Olivia Booth in Benin was an instant success with customers and staff alike. Feedback indicated a marked increase in local sales and very positive customer responses to the experience. We got rehired later that year by Olivia for it's end of year corporate party to entertain staff and family.