Mariam and Tunde are smiling lovingly while looking through their wedding pictures on an iPad on their way to an extravagant honeymoon. Jumoke and Wale are so flustered by the stress of planning their wedding, the huge expenses they incured in the process and calling their photographer to find out when the pictures will be ready… He said in 3 whole weeks! What did Mariam and Tunde do right? They hired PhotoGenic services to give them the following for their special day:
Theme Design: PhotoGenic's team of in-house artists worked with the newly weds before their big day to design a beautiful wedding theme with colourful design backdrop and props which reflected their individual tastes yet captured the significance of their special day. This saved them a lot of extra cost for an interior designer.
Onsite Printing: This meant they didn't have to wait for days and weeks to have pictures of their big day. The lucky couple and their guests had a great time drawing neon signatures for images on their pictures and viewing them on the wireless slideshow. They also had their pictures printed immediately thanks to PhotoGenic's onsite wireless printing device.
PhotoGenic Lounge: Mariam and Tunde also booked one of PhotoGenic's Magical Celebration Package, The PhotoGenic Lounge to give their friends the VIP treatment. This meant their wedding guests were able to pose for shots in the programmable multi-color semi-enclosed spiral booth and have the pictures shared instantly on social media. This added to the aesthetics of the event hall creating the perfect ambiance for the couple and their guests to relax and have fun while having their pictures taken by the skilled PhotoGenic Fairies.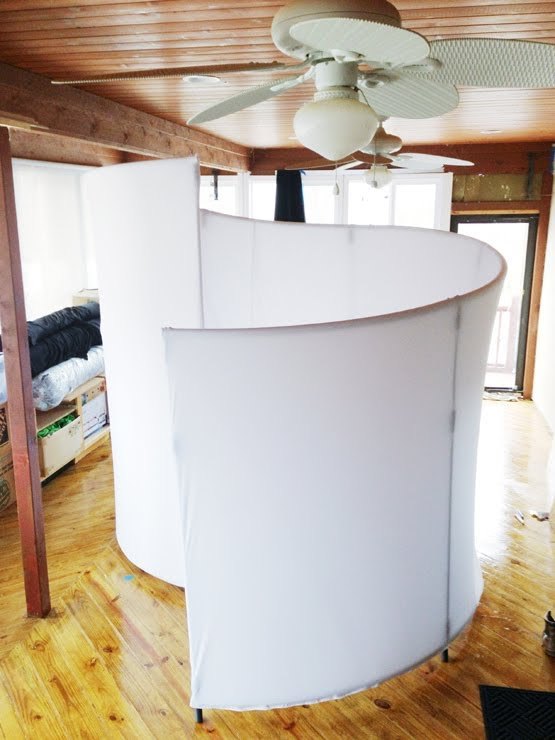 PhotoGenic Mirror: They booked the PhotoGenic Photo booth mirror, a full-length mirror that also serves as a camera with engaging animated displays and communicates with the user. This mirror also features a fun game of vocal cord strength. The couple and their friends particularly enjoyed this magical mirror as it left them feeling excited and satisfied at the end of the day.
Hashtag Activation: Mariam and Tunde wanted a small wedding to save cost but also wanted all their loved ones to be part of their celebration so they booked the Hashtag Activation. With this, family members and friends who couldn't attend the wedding could participate in the celebration through social media without being there. How? The PhotoGenic team worked with the couple before the wedding to create a fun hashtag and during the event, live pictures were uploaded and shared on social media so their loved ones could follow the event every step of the way.
Free Souvenirs: The couple saved a lot of money in souvenirs because PhotoGenic had that covered for them. Guests received photo souvenirs personalized with the theme of the day and names of the couple to leave a lasting memory of the couple's special day on their minds. The Group Reprint Feature ensured everyone in a group photo got a copy free of charge as well! The couple also got a high-quality photo guest album with guests' inscriptions of well wishes at no extra charge!
Be like Mariam and Tunde and call 08060903561 or send an email to [email protected] to book the PhotoGenic photo booth at an affordable price for your wedding day today!