We have had a simple yet sleek photo booth for a while now that many of you our clients do not know about neither have you used it for your events. 
Guess what the new product is? PhotoGenic HALO Booth. 
Our HALO booth is sleek and minimalistic, easily fitting into any environment with limited space. It's glowing ring light attracts people to capture selfies and share photos and animated GIFs. 
It can be used for different events from weddings, birthdays, corporate parties, brand activations, product launch etc. 
How does it work; 
A bold 

" tap to start booth

" and 

'look here

' message instructs users on what to do.

 

A visible countdown timer and beeps mark the pace between the image being taken

. Once complete, the photos

 appear on the screen with the various edit/print/sharing options.

 
Here are some of the events we have used the HALO booth; 
HP 
The HP Elite Dragonfly is easily the best laptop out there for travelling professionals and executives. It's thin, light, powerful and is one of the most stylish laptops on the market. The launch was such a wonderful experience for all attendees.  
Genesis Cinema Valentine
This year we decided to partner with Genesis Deluxe Cinemas for their annual valentine event tagged "Pearls & Roses" and guess what they had the "Kissing Booth" at one of their cinemas. Loverbirds had the chance to express their love in the booth.
Martel 
Martell Cognac, the world's No 1 prestige Cognac house, took round their brand across Lagos metropolis clubs/lounges for some experiential moments, the party was lit back to back #BeCurious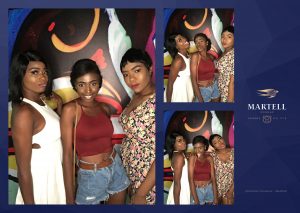 Intel
Stanbic IBTC  
There's a popular saying that "you are who you are" except you decide otherwise. As one of the leading financial institution in the country, Stanbic IBTC did a campaign pan-Nigeria reminding  their customers who they are using the hashtag #YouAre – iconic, extraordinary, unique, beautiful,strong etc 
Lagos Intl Trade Fair 
We all know this is an annual event organized by the Lagos Chamber of Commerce that both local and international brands showcase their products to intending buyers. For the lovers of braids X-pression is a product many women use to adorn their hair and they have never failed in collaborating with Toyokalon Japan the supplier of the fibre used in making this wonderful product throughout these period dishing out many goodies to everyone that visits their stand. 
Moms At War movie premiere 
This is a story of two mothers and their children, they live in the same neighbourhood and hate each other. The mums go through all sorts of antics when their children find themselves competing against each other at school. If you haven't seen the movie it's available on Netflix. 
I trust you like pictures from our Halo Booth used for events, why wait anymore?
Let's get talking.