The best way to create an entertaining atmosphere for your holiday party is by experiencing a fun photo booth. Photo booths have been in trend for a while now, but they have proven to be a great addition to any party, weddings, birthdays, socials, experiential events, corporate party etc. 
Photo booth gives you and your guests a chance to let loose and enjoy time together as friends, families, co-workers. They won't forget the amazing time they had together at the party. A photo booth is a perfect addition for your upcoming holiday party, and here are the reasons why you should consider it! 
1) Ice Breaker! 
Guests at a holiday party may not want to dance, but believe me, everyone loves taking pictures. They may not know each other either but it is a great way to break the ice. It makes it easy for those who haven't previously met to interact with each other through photo booth experiences. Guests can use props and backdrop to create the perfect photograph with each other. People will leave the party with new friends. 
2) Photo Keepsake 
Everyone loves to look back at old pictures to remember good times from the past. A photo booth gives your guests something to take home with them that they will never forget. Giving your guests a fun take-home gift is always a good idea for a party. The photos that they receive will always remind them of the fun they had at the holiday party. You can look back and laugh about the way you were wearing your hair, the clothes you decided to wear, or just the conversations that you held that night. They have the opportunity to always look back and revisit that awesome day.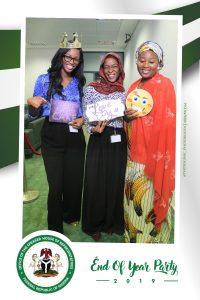 3) Boosts Morale 
Keeping your workers happy is good for business, and adding a photo booth to your corporate holiday party is just another way to bring joy to employees away from the office. The happiness and fun you experience from the office party will likely carry over into the workplace and create a more fun and positive vibe at the workplace. 
4) It's Entertaining, and That's What a Holiday Party is All About! 
The top reason that you should add a photo booth to your party is it will entertain guests for sure! Entertainment is the top priority when holding a party. I mean who wants to have a party where guests are bored? A photo booth can help add value to your holiday party. Fun props and sequins backdrops are available to allow your guests to loosen up and have more fun. Everyone will always be able to remember how awesome your holiday party was that year and will never stop talking about that day! 
Our holiday packages are affordable and our photo booths can fit in just about any space. It can be set up in a break room for a small party or in a larger area for a larger party. 
A photo booth at your event is an excellent way of getting the party started! If you're looking for a photo booth rental for your holiday party, Email for more information or Book Here