Trade shows and exhibitions are great avenues to generate leads for your business, increase your brand awareness and start new business relationships. At trade shows, marketers get to meet leads with buying authority, which means the potential for increasing sales.
The challenge, however, is competition. A small trade show hosts about 20 exhibition booths competing for the attention of those precious guests walking down the exhibition aisle. How then do you stand out from the competition and get real value from your investment?
Here are 5 simple ideas you can try at your next trade show to stand out and attract more leads to your booth.
Bright Colours and Lighting: For exhibitors who cannot afford to get a booth at premium locations, you can design your booth with bright colours and lights to attract people to your booth.
People are generally attracted to bright colours and beautifully designed booths, so you can invest a little cash in your booth design.
A business used lighting to attract guests to his booth when they employed PhotoGenic's photobooth. Because the photobooth uses lights, a lot of people were attracted by the lights and wanted to know what was going on at the booth. Soon, there was a small crowd at the client's booth as people were cueing to take photos at the photobooth.
Snacks and Drinks: Exhibitions could be long and tiring. So, little snacks and drinks are always appreciated by guests that have walked from one booth to the next. I've attended several trade shows where I visited a booth just because they were serving snacks and drinks to visitors. This gave the business an opportunity to educate more people about their business, even though they came just for the snacks. A win-win situation if you ask me.
Use Social Media: Using social media and leveraging on the trade show's official hashtag is a great way to inform people on what's happening at your booth and attract people. Sharing pictures from your booth and engaging booth visitors on their social media handles will do the trick.
A client put this technique to work when they employed our photobooth. With every picture taken at the booth, it was shared immediately on the client's handle, the visitor's social profile with the event hashtag. So everyone following the event on social media could see what fun is going on at the client's booth and had to join the fun as well.
Gifts, Souvenirs and Branded Items: This technique is similar to the snacks and drinks technique. If you take great items to your booth (we're not talking about simple pens), everyone will want to have some. Branded t-shirts, bags, office journals, picture souvenirs and stress balls have attracted me to booths. Those are just some ideas I've seen work.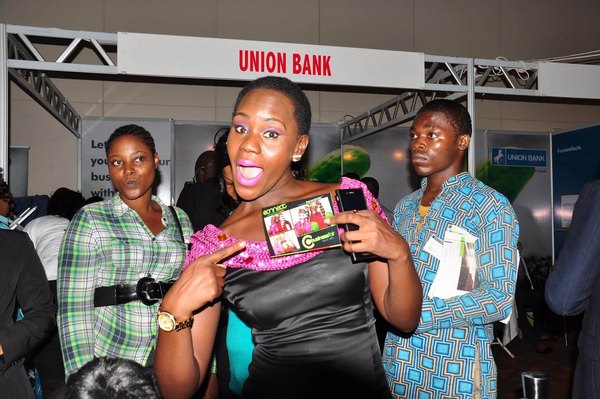 Games and Contests: Remember, you're competing for the attention of customers. Now, put yourself in the customer's shoe, if booth A is having some form of fun game or contest for its visitors, and booth B has brochures, flyers, branded items and a fancy booth, which booth will you visit first?
I'd definitely go for the contest and game booth. To implement this plan, make sure that before people participate in the game or contest, they drop their cards or contact information so you can follow up with the leads.
Here's an idea for a contest… PhotoGenic's Mirror Voice Contest.
What techniques have worked for you at trade shows? Feel free to share your comments @PhotoGenicNg