Hey, the PHOTOGENIC SNAPCHAT BOOTH is here. 
You asked for it and we have delivered, a super new and amazing feature we just added to our photobooths. You think the regular photobooth was awesome? Wait till you try out the PhotoGenic Snapchat Booth filters, boom!!!You would be mind-blown.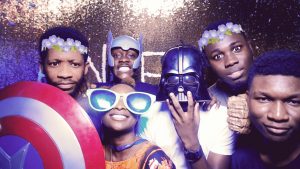 The days of Snapchat been used solely for sending pictures between friends are over,you can now use your favorite filters with a photo booth at events and get amazing printouts and can be shared on social media instantly, cool right?
Say no more to the regular props because now you can choose from a ton of options, and the AR is so so good.
Let's get this party started!!!.
Reserve now.